4 minute read, B2B SAAS and Software. Ok, so you are a few years into it, the Subscription uptake is good, but engagement with the software is not what it should be. Your growth rate looks something like this: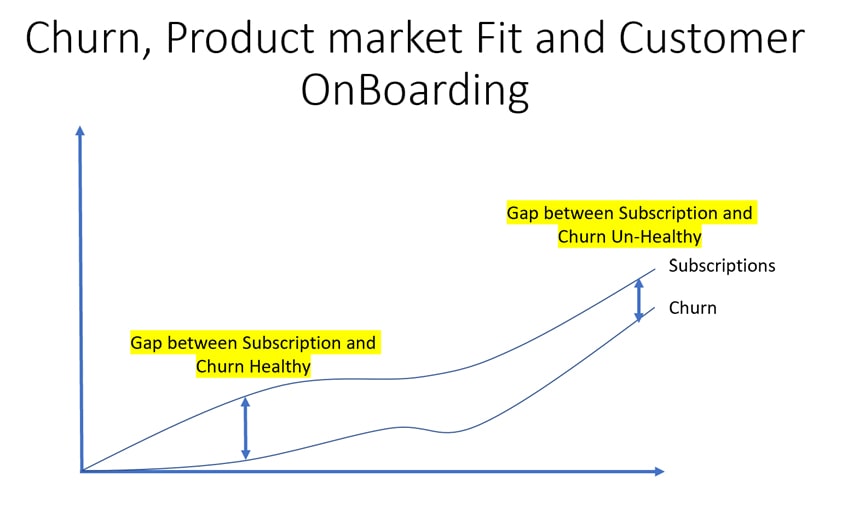 I have seen this several times with SAAS businesses and it means you have a serious problem coming up.
Defining the Problem
Uptake of your product is dependent on what it fixes for your customer, to state the obvious. If your customer purchased or subscribed to the product in the first place, they thought it was going to fix something that it has not for various reasons. If Churn is increasing at a disproportionate rate to subscriptions, you could have any one of several problems. You need to find out the reasons, is it:
A Functional Problem? I thought it did this but it actually does not.
An On-Boarding problem? We never understood how to set it up so we never did.
A Customer employee turnover problem where the customer employee who manages the product has turned over (left) and not got their replacement (new employee) apprised as to what the product fixes and why they purchased it in the first place.
Stakeholder Change? Sharron joined us and said we should use the product she used to work with, so we changed.
Customer Acquisition? We were acquired by another company last year, now we have moved over to their systems.
A Financial Reason? We have had a major change in business circumstances, we could not afford to continue using your product anymore.
How to define the problem
I have seen several ways to find out the reason why churn has increased and your product abandoned. Here are a few and the merits of each:
Survey the customer
This is good in theory however, you often find that the survey completion rates are low, customers who have terminated often feel disengaged and could not be bothered with further engagement, especially spending their time on telling why you product/service was not good. So nice initiative, not much data.
Get Customer Success or Account Management to find out
Sounds logical however this also has issues. Most Customer Success or Account Managers will characterize the reason as something other than a reason they were responsible for. For example, your account manager Bob will not want to say "Hey, I missed the key stakeholder change, never talked to them, so they changed product".
Get Inside Sales to find out
This is one of the best methods to truly get to the problem. Get Inside Sales personel who have not had a relationship with the customer t give them a call and discuss the reason why the customer left. Ensure that the Inside Sales person has a limited number of reasons they can choose from when classifying the reason why the customer churned.
Get an external Third Party to find out
This is often the best solution and gets to the truth faster and more accurately then any other method. An external Third Party typically has no vested interest in the reason for churn, they are paid a fee for their service. You will get more accurate data without bias using an external Third Party to call churned customers than any other way.
Phases of Churn
Once you have some data on the Churn Reasons, work out which Phase of Churn is the most problematic for you. Here is a simple chart to show the Phases of Churn: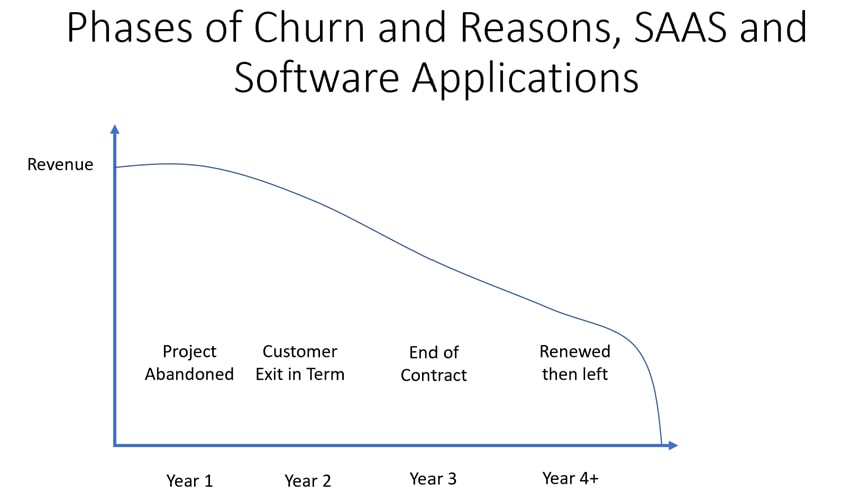 The effect on revenue is dramatic and often overlooked by Founders as early stage SAAS businesses tend to focus on growth in Subscriptions, not so much on retention. Once you have the reasons for Churn, plot them on the Phases of Churn and then go about fixing the largest problem first. For example, if customers Abandon projects in Year 1, work out why using the reasons you got from your Churn Analysis.
Churn through the Eyes of an Investor
SAAS Valuations are derived from the fact that the business has re-occurring cash flows and growth. Churn is the killer of re-occurring cash flow and growth.
Summary
If you have a Churn problem, it should be THE first priority to fix. Investors will place a low valuation on a business where Churn is accelerating as this often leads to cash burn, or worse a death spiral.
Help a SAAS Buddy
Comment on your experiences and Help Out a SAAS buddy today 😊
Author: Lyle Potgieter, CEO www.SAAS-Know-How.com