SAAS Customer Experience (CX)
Top 4 Essentials
For anyone is the SAAS industry, Customer Experience is critical. If you are churning customers your growth will slow and your reputation will suffer. At the risk of sounding like "Captain Obvious", this article contains 5 Customer Experience essentials that can make vast improvements to your Customers Experience.
Essential 1 – CRM and Behavioural Change
SAAS businesses are valuable because of their repeatable earnings, slow repeatable earnings and your value declines. The first essential is ensuring ALL of your employees on the front end (Business Development, Customer Experience Managers, Marketing, Help Desk and Implementation managers use your CRM system. This often requires Behavioural change for individuals, particularly new employees that are not used to using CRM or see it as a burden. If you let individual employees opt out of using your CRM system, you get a breakdown in customer experience as there is no continuity in recording the customers journey. Employees downstream of the non-user of CRM, can see how the customers progressed, what issues they experienced, how they were resolved. Come renewal time, and the customer is considering leaving, the Customer Experience Manager has great difficulty is retaining the customer as they have no record of what the customers experience was actually like.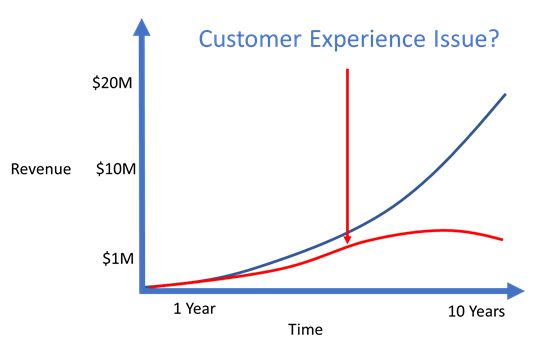 Essential 2 – Single View of the Customer Journey
If your CRM system is not integrated to you Help Desk software, marketing software, financial systems, you are not enabling the Customer Experience managers, Help Desk mangers, marketing teams to get a single view of the customer, you frustrate their ability to manger the customers journey. Very Frustrating for the Customer Experience employees, Help Desk Employees, Marketing Employees as they can't deliver an excellent Customer Experience without considerable extra effort.
Essential 3 – Customer Experience Methodology
If you have not adopted a Customer Experience methodology, best you do. Reactive Account Management is old school, typically very reactive and lacks clear direction. Customer Experience needs a clear methodology so that your Customer Experience team can be reinvigorated, powered up and clear on how to drive the Customers Customer Experience.
Simple things:
What are the criteria for Customer Success Vector?
Who determines it?
How does Customer Satisfaction get measured and linked to Customer Success Vector?
How can others in the organisation see the Customer Success Vector?
Where should the Customer Success Vector be visible?
How does the Customer Success Vector connect to the Help Desk?
How do you use the Customer Success Vector to drive integrated marketing nurture campaigns?

If you don't have a Customer Experience methodology, comment at the end of the article so we can help connect people to a Customer Experience methodology.
Essential 4 – Customer Experience Onboarding Program
Many SAAS businesses I talk to have a traditional sales methodology for onboarding, sell it then pass over to the Implementation team. The Implementation team complete the implementation, then pass over to the Help Desk and Customer Experience team. Sounds good, however by the time the Customer Experience team inherit the customer, there are often issues: Insufficient information about the customers goals, what are they trying to solve? Lack of documentation on the customers (missing email addresses, phone numbers, primary and secondary details missing in the CRM). Marketing connection to the customer is not clear (what nurture campaigns to use, what's been completed in the onboarding phase, what are the gaps). Help Desk don't have a view of the customers Success Goals. The key here is develop a clear concise Onboarding Program, maps the steps and train you teams end to end on the process, keep checking its ingrained in behaviour and drive the Onboarding Program hard.
Sample Customer Onboarding Program of work.
A solid Onboarding Program can significantly increase time to implement, reduce dissatisfaction and ultimately reduce churn, driving up enterprise value for your SAAS business.
Summary
Customer Experience is the key to managing churn. Just about every SAAS and software business has issues with the 4 points outlined above. Get it right and churn goes down, increasing your growth and valuation.
Help a SAAS Buddy
Comment on your experiences and Help Out a SAAS buddy today 😊